If you're new to PromiseHub, you're probably wondering how to complete your first shipment. Don't fret; we're here to help! In a few easy steps, we'll show you how to begin enjoying our fast and friendly shipping service!
Step 1: Fill your basket and check out
The first step is arguably the most enjoyable! You'll begin by shopping with any US retailer of your choosing. When you check out, don't forget to use your unique PromiseHub address, including your personal suite number. This will help us to ensure you receive your package as quick as a flash!
Your PromiseHub address will be sent to you by email when you sign up, and you can check it at any time by logging into your online suite, where it will be displayed on the right hand side of the landing page.

Step 2: Log in to your online suite
Each of our members has access to an online suite; this is where you can update your account details, manage shipping addresses, and review your order history. It's also where you'll arrange shipments, make payments, and track packages. When you log in, you'll see a landing page that looks like this: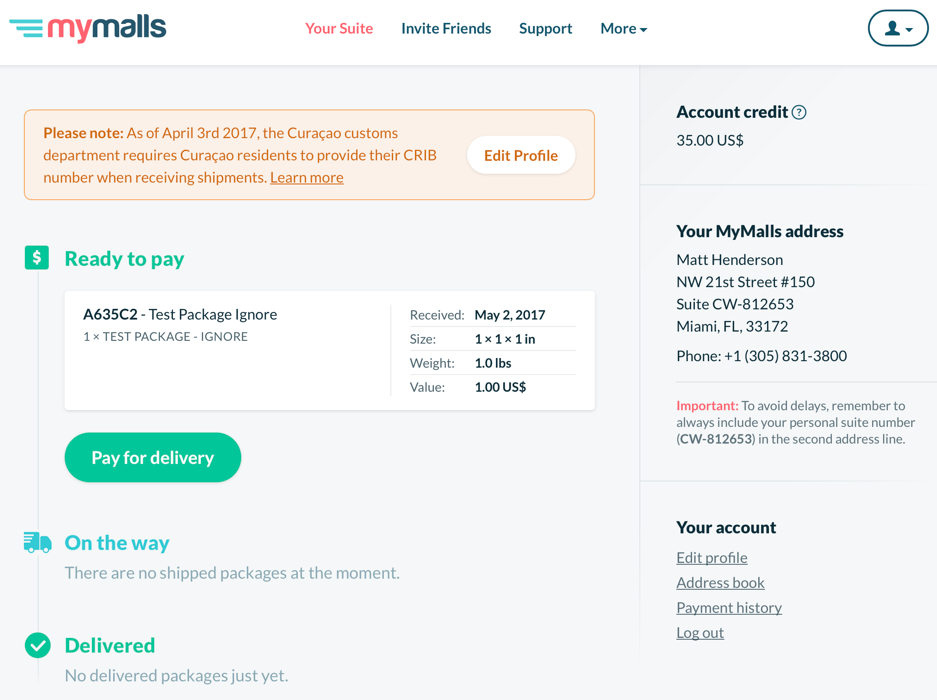 Step 3: Check if your packages are ready for shipment
The landing page of your online suite displays the current status of your shipments. If there are entries listed in the 'Ready to pay' section, this means we have received your parcels in our warehouse and calculated applicable fees. These packages are now ready to be shipped to you.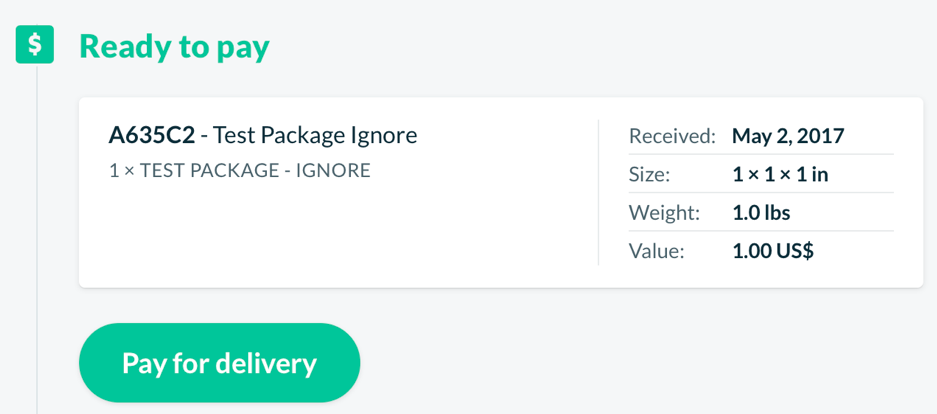 One of the many perks of shipping with MyMalls is that we'll store your packages in our secure warehouse for up to 60 days, giving you the option to save money with consolidation, all at no additional cost. However, we know some packages simply cannot wait! That's why we are proud to offer direct delivery to your door in 24-48 hours.
Step 4: Pay for delivery
Once you're ready to ship any – or all – of your packages, simply click on the 'Pay for delivery' button. You'll then be given the option to select which packages you'd like to ship. Check the relevant boxes and click 'Continue to address'.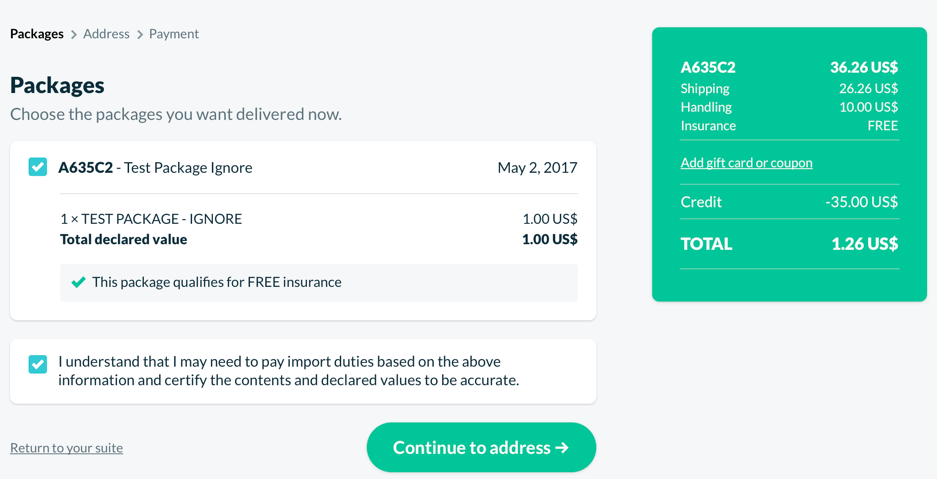 This will take you to your list of shipping addresses. Select the correct destination, then hit 'Continue to payment'. Next, enter your payment method, then click 'Complete Payment'. Once all authorization checks are completed, you'll receive a confirmation message.

Step 5: Track your shipment's journey
MyMalls won't leave you in the dark! We provide comprehensive tracking, from our warehouse to your doorstep. On your suite landing page, you'll see a quick view of your packages in transit. Simply click on the package to expand the details; you'll discover its current status, as well as a log of its journey so far.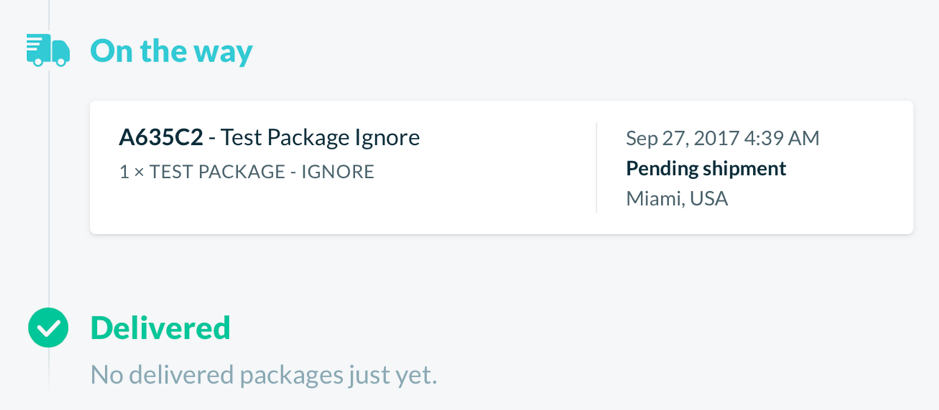 Step 6: Sit back, relax, and await a knock at the door
All you need to do now is wait for your shipment to arrive at PromiseHub!
If you would like to learn more about shipping, or any other aspect of the MyMalls experience, please check out the helpful articles contained within our Help Center.
Happy shipping!